Adapt and Filmstaden have collaborated to create the Cinema Connect concept. This means that together we can offer a more sustainable, efficient and convenient way to conduct meetings. This is suitable for both small and large companies. All you have to do is sit back and follow the broadcast.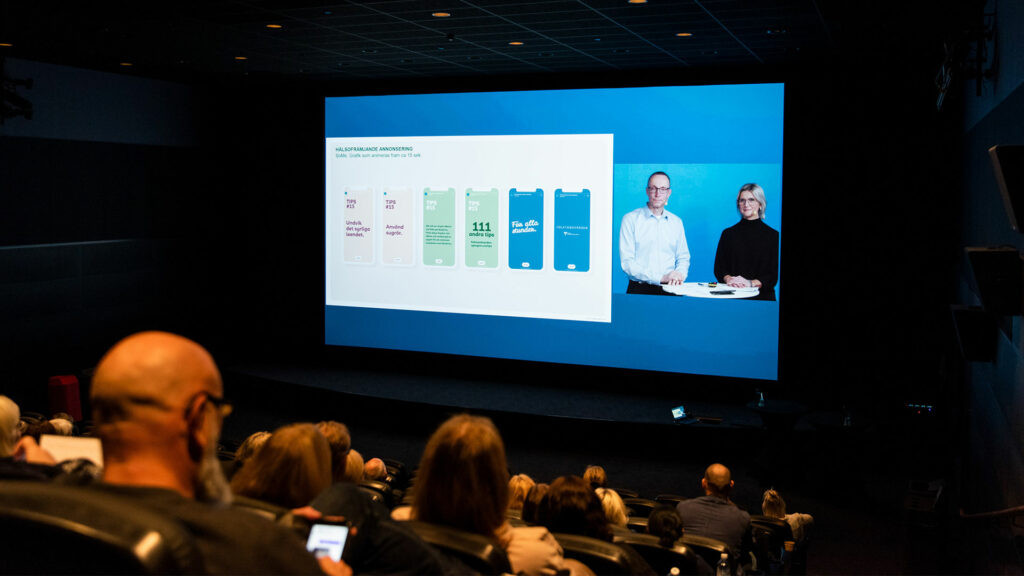 In a world of pandemics and climate change, the market is placing new and higher demands on sustainable and efficient meetings, events and conferences. While digital meetings are on the rise, the physical meeting still plays an important role. It is also becoming increasingly common to combine both physical and digital participation. Therefore Adapt and Filmstaden together developed the Cinema Connect concept, creating the largest network for hybrid meetings in the Nordic countries.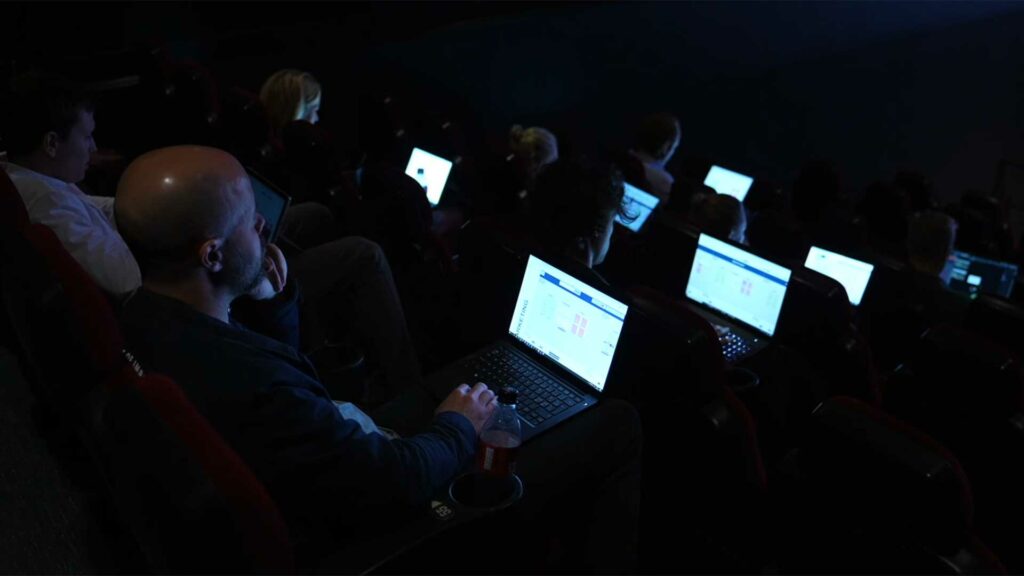 The largest network for hybrid meetings in the Nordic countries
Cinema Connect means that Adapt's five streaming studios can be connected to Filmstaden's 100 cinemas in over 40 locations across the Nordic region. Each cinema has physical participants and by connecting the venues digitally, a large common meeting is created. Naturally, the cinemas offer world-class sound, picture and comfort, as well as two-way interaction with absolutely no delay. This means full communication between sender and receiver.
Cinema Connect: how it works
We install Adapt's computers with streaming software in each auditorium of the booked cinemas.
Then we connect a studio to all the computers that broadcast directly to the screen in the cinemas, without any delay.
If the participants need to interact, they do so easily via their phones using, for example, Menti or Moments. The results are then displayed on the screen in the lounges.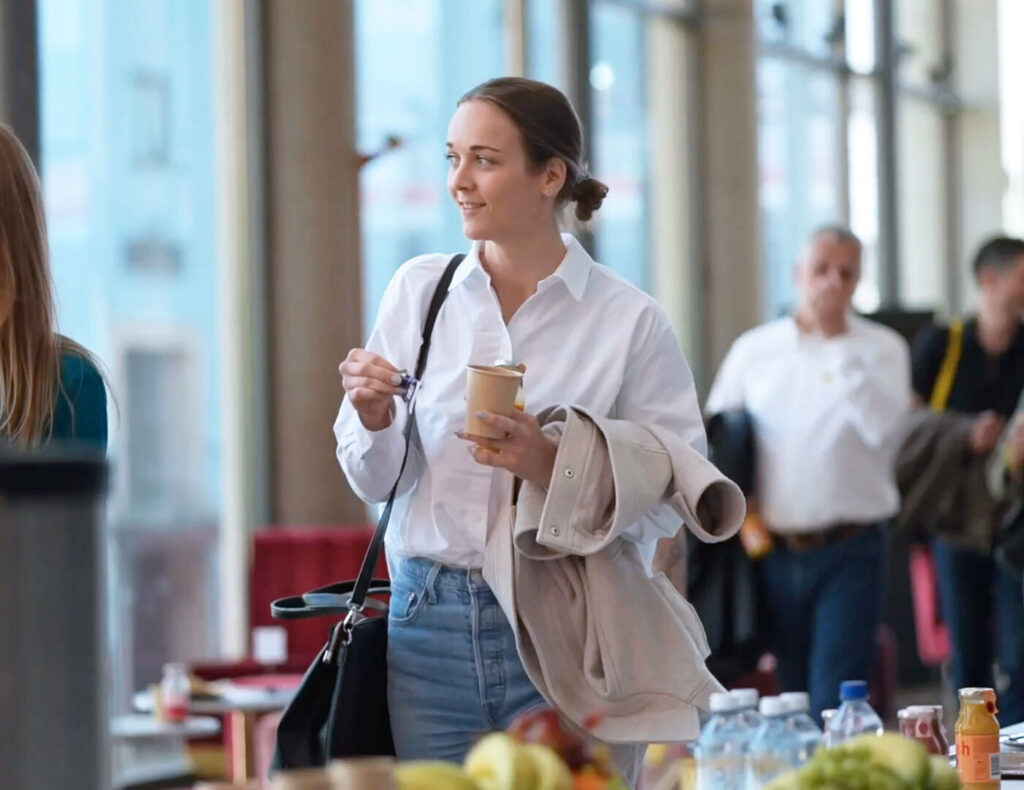 Identical experience for participants
Cinema Connect is a new and more modern way of conducting meetings that is both sustainable and long-term. This is because the concept offers an alternative to long, expensive and time-consuming journeys. Instead, your participants remain in their locations and can participate with their colleagues directly from there. All they have to do is sit back in comfortable cinema chairs and watch the broadcast on a big screen and with large-scale sound. What's more, we can create an almost identical experience for all your meeting participants, even if they're in different locations. Together with Filmstaden, we can tailor the event to your requirements and there are great opportunities for lunch, refreshments and mingling.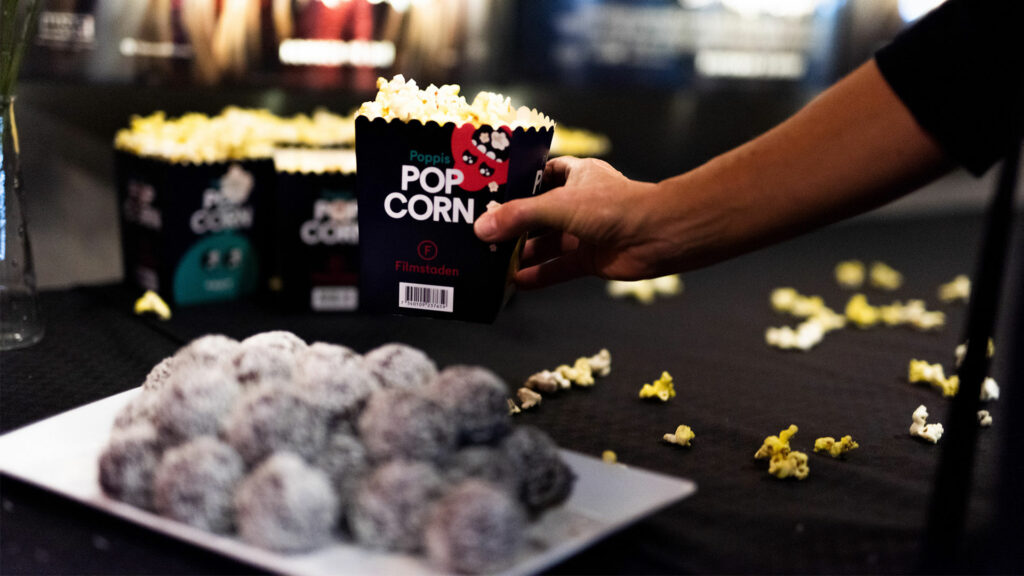 Create a conference out of the ordinary
We are very proud and delighted to be able to offer organisations and companies this opportunity. We hope that you are curious to know more about Cinema Connect and how you can use it. You are welcome to discover the largest network for hybrid meetings in the Nordic countries!