About the important 10,000 hours to learn everything.
The second dream – to make it a little more real.
Together with a small group of friends; Jeanette, Ellinor and Daniel, with loans from UNICEF's lighting and sound equipment and the banquet hall Paletten as a base and not least with supportive people in the municipality – the dream took off and there were more and more little events. After a couple of years, however, the group of friends had begun to thin out.
Left in the end were Jonathan and Viking; those who wanted more and wanted to invest forward. There was a lot of will but no real plan really, no clear thought as to what it would all go. Except it was hugely exciting and fun. They made a few bucks and they could buy a used tech gadget. They printed posters on the municipality for free, got a knattedisco, made a little more money, bought a new thing – and so it went on. They borrowed storage space for their things, sometimes at UNF, as well as with a friend's brother.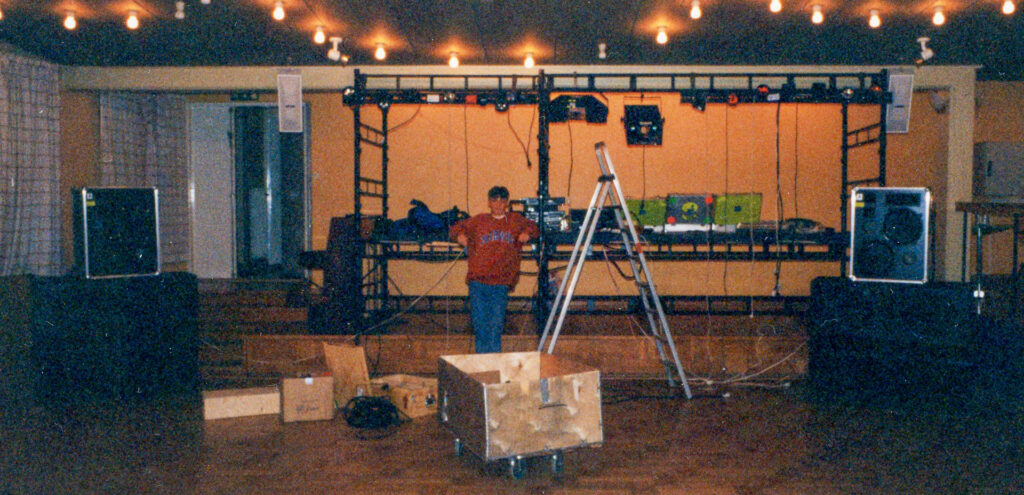 That the discos and parties thing could be some kind of future profession. It was an extremely diffuse, if present, thought. But there was an inherent drive and commitment that would prove absolutely crucial. And now they started dreaming of making it bigger, more and also outside Bengtsfors.
A couple of years had passed since the success of the class trip and it was time to start arranging parties for peers. It was in Bengtsfors but also outside, around the municipality, as far away as Åmål even. It grew bigger. Jonathan and Viking went to school, threw parties, worked as DJs, designed posters, bought and cooked technical things. They worked extra here and there.
Although the number of hours was up in red, for a long time, a firm basis was laid for what would become Adapt. A foundation that was about building something from the very beginning, learning every little detail, having just that drive, an ambition to perform at the maximum at all times and that once that happens; when the light and music fill the room and the party starts – then the experience should be as good as it ever is. That's exactly what it was all about, even then.
But they weren't alone in the world. Their great role model was Jan-Åke Broqvist in Hagfors and his Flying Dutchman Disco. It was one of Sweden's first and largest mobile discotheques that went country and country between 1970 and 2000. Jan-Åke's discotheque attracted thousands of dance enthusiasts each time and had an impressive guest artist list with names such as Magnus Uggla, Gyllene Tider, Boney M, Johnny Thunders, Dr Feelgood, Ebba Grön, Thomas Ledin, Motörhead and many many more.
Jan-Åke had started to de-escalate a bit around 1995 and from him Viking and Jonathan bought most of the technical gadgets they needed, on installment and with sky-high interest rates, but it was still a good deal for both parties. There were many trips to Hagfors and besides equipment they brought a lot of knowledge, tips and not least confidence home to Bengtsfors.
There were more and more parties outside Bengtsfors, which led to Adapt made his first real investment: a trailer. It was a bit si and so in the condition, a little tarnished was it and a skewed wheel had it, but it was reasonably cheap and above all; It did the job.
For almost all the time the business had been running, Viking's mother, Elizabeth, had been keeping track of the boys' money, what came in and what went out. Even if it was small sums and most of it was cash in hand. But now that the jobs were increasing and the sums a little higher, Elizabeth pushed to start a company and so it was.
When Viking and Jonathan were underage, it was to visit social services (!), together with the parents, to get permission to open a company. But in the end they were able to start, a trading company became what was named DaFreak HB. A new era began.