From Bengtsfors to Google
It's like a dream. It's a long dream that's led all the way here and now it's come true. Hall bathes in light, it is filled with buzz and sounds from over two thousand people. The screens, which are not screens at all, shine like huge installations and frames one of the world's strongest brands: Google.
And there it is. they, frozen on the floor, two guys from Bengtsfors. Side by side, they stand and feel the same; that it's like a dream, completely unreal, they're so proud that they almost crack. They look out over the sea with people, they see their colleagues crouched behind boxes of computers and screens and ensures that everything just works. They look at each other and think the same thing, without saying it out loud; "oh my God, here we are, so incredibly fun!".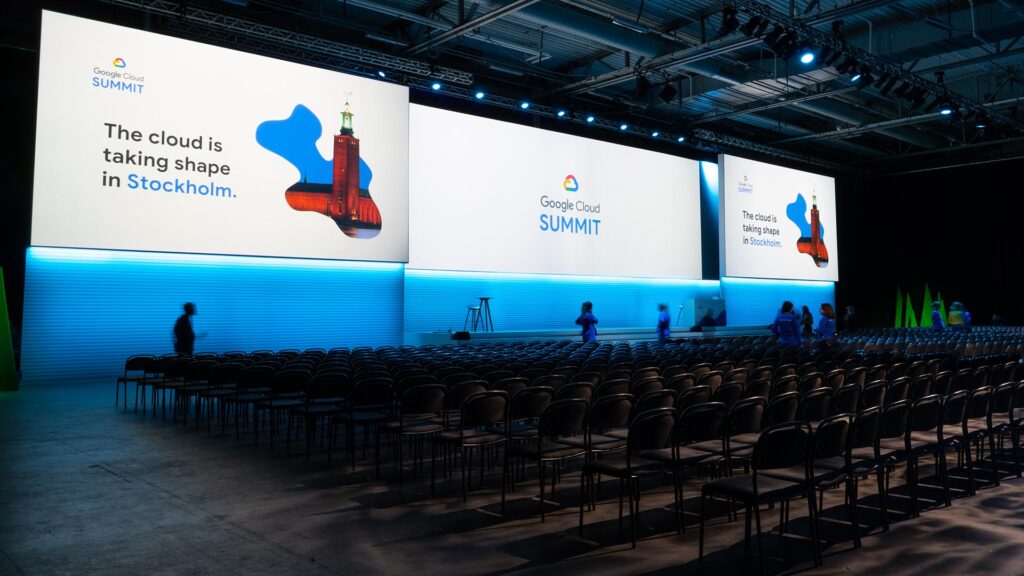 There are something beautiful about what Adapt Make. Sound, light and image that together fill up entire rooms, creating and driving experiences in front of them; experiences such as makes people feel, cry, dance and laugh. Intimate, emotional, powerful at times, as a physical manifestation of all that social media and digital communication is called.
Creating scenes and platforms where brands take their place and are portrayed in flowing light, where people perform texts and show pictures of all kinds. They create a large theatre where people should try to convince, influence and create more or smaller virtual campfires that build consensus and unity.
Or so designs and builds the welcoming and inviting stands and exhibition environments where contacts can be made, friendships can begin and relationships deepen. And much more. Yes, it is often very beautiful. And sometimes even absolutely outstanding.
Nothing have come for free to Adapt. Every success has been the result of a dream, a vision of a next step, a new goal that has been decided to realize. But above all, it has been about hard work. Every success has was a work victory. It has worked resolutely, patiently, carefully and hard. Owner first, then owner and co-worker, side by side. If there's anything, if it is a concept that has always permeated the company and which should distinguish the forward, it's: achievement.
This the story is about what characterizes and summarizes Adapt: Drive, performance and experiences. It is about having your origins and drive in a genuine commitment; the flame that burns and that is the engine of everything that happens. It is about always performing at your best for those who expect it and nothing other, that is, the customers.
And that is about focusing on and never forgetting that the most important thing of all, the that is exactly what it is all about, is to create strong, lasting experiences that make a difference, for real. And It's about dreams.