About growing up with board and everything and becoming more and more with a new CEO in the lead.
The seventh dream – now we're going to grow up.
If Adapt in the last two years, until 2014, in a teenage phase, it was now high time to grow up. Or at least a little more grown-up. Both Jonathan and Viking felt that the company would benefit from a little more control, to have its eyes a little further ahead and that it could be enriching with a little more continuous influences from outside. They were both quite worn out since 2011 and a little tired of thinking alone about the company and the future. The question lay before the owners on the table; What do we want now, where are we going now? There was, of course, no question of stopping or switching down, the dream of taking the next step had begun to take shape. So now it was about becoming an even more mature company instead of finding new ways forward. The answer to the question was: we are appointing a good board.
The first step was to bring in an external chairman. With his help, Viking and Jonathan were able to formulate their will forward in an ownership directive and a longer-term work began to take shape. Soon the idea of hiring an external CEO was launched. Viking and Jonathan felt a desire to move forward, to be able to focus on what they were passionate about; to create and develop business, work with customer relationships and create new types of technical solutions.
But it was way in to let go of the captain's armband to someone else, it was a bit like giving away your baby. But they knew that the company needed a different and more dedicated leadership in order to become more grown-up. The choice fell to Charlotte Odbjer. She had previously worked for many years with some of Adapt's old competitors and as marketing manager at GöteborgsPosten. She stepped in and became CEO at the end of 2014. Not long after, the Board was expanded with an additional external force as the financial competence needed to be strengthened.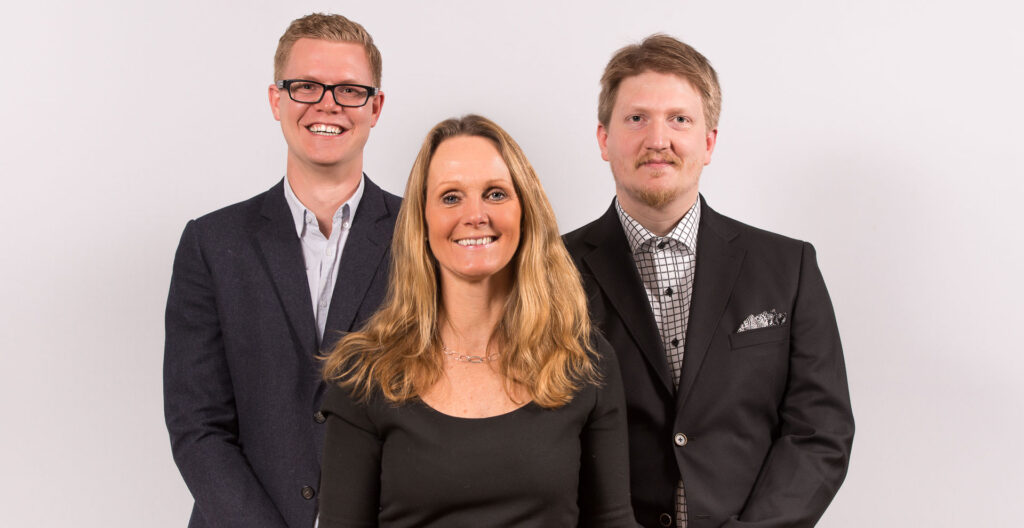 External CEO, good working board – now the teenager started to grow up. The Board set a strategy that focused on employees, profitability and developing the customer list and customer relationships. It was a lot about starting to go from a wide range of small customers to fewer and larger – both customers and assignments. Viking was able to concentrate on sales and marketing work and Jonathan was able to streamline his role as problem solver and technology developer. New talented employees came in and it became easier to gather around some clear target images. And now things were turning. Not overnight, rather slowly and surely. The projects gradually became larger, the reputation strengthened, new and larger customers became curious. Turnover turned back upwards; from the 2014 20 million it increased to 27 million the following year and 30 million in 2016. But it wouldn't end there.