About saying bye bye to Bengtsfors and working harder than ever.
The fourth dream – time to leave the quay.
Out of school and with a few more years in the belt, Jonathan and Viking's life began to take different paths. What kept them together and DaFreak was basically a strong friendship plus they thought the whole thing of partying and clubing was basically awesome fun, plain and simple.
Viking worked as a youth consultant and moved to Gothenburg where he and Jonathan quickly became friends with Peter Hansson at JP Disco, one of the country's largest stores for renting and selling DJ equipment, among others. Peter opened many doors and conveyed a lot of contacts in Gothenburg that led to new jobs. Peter would also have a special role in the company's history, more on the latter.
At the turn of the century, Jonathan pulled into the army. The choice fell to P4 in Skövde. Of course as an electrical engineer, what else? Barely a year after he stepped in, Viking did the same, choosing to attend an officer training course. Jonathan eventually got out and took a job in the armed forces, a position he would have for six years. Viking wanted to do the same and passed all the tests to become an officer and professional military officer, but only to see the government withdraw funding that year and then there was no officer's school. As they say in hindsight; I guess it was a hell of a ride.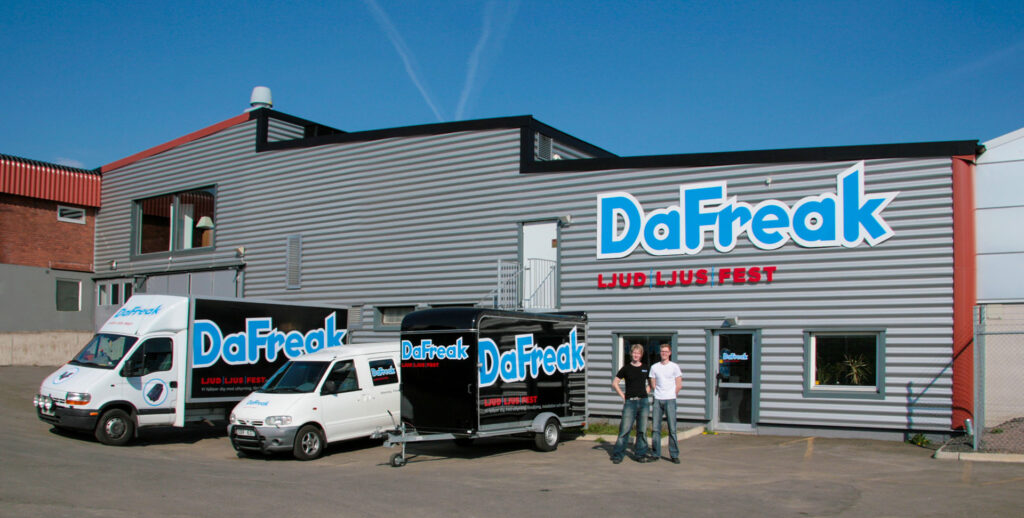 In other words, it was the circumstances that led to a little more investment in DaFreak. Even though Jonathan had a full-time job. But because his job was in Skövde and skövde is well located geographically, a little on the snail between Gothenburg, Stockholm and Bengtsfors, it was decided to move the company to Skövde. It was, of course, a big, but natural step to cut the panties to Bengtsfors, to the safety and the old networks and steer the boat into more unknown waters.
During the decades that DaFreak was domiciled in Skövde, the assignments became more and more numerous. And it put in an almost improbably hard job. Jonathan had two full-time jobs; armed forces during the day and nightclubs at night. Viking sold, projected and managed the company during the day and drove as a DJ in the evenings and nights. Both pressed double passes and were never available. Year in and year out. And learned his industry and his company, the hard way, without and before. You'd think that once Jonathan left the armed forces, he'd unwind a little bit and focus on a single job. But not. He chose to study further and not at 100 percent speed. He picked 120 percent speed. That's kind of how they work, both him and Viking.